RENEWAL SURVEY OF FIBRE ROPES WITHOUT NEED FOR DNV TO BE PRESENT DURING INSPECTIONS
17 February 2021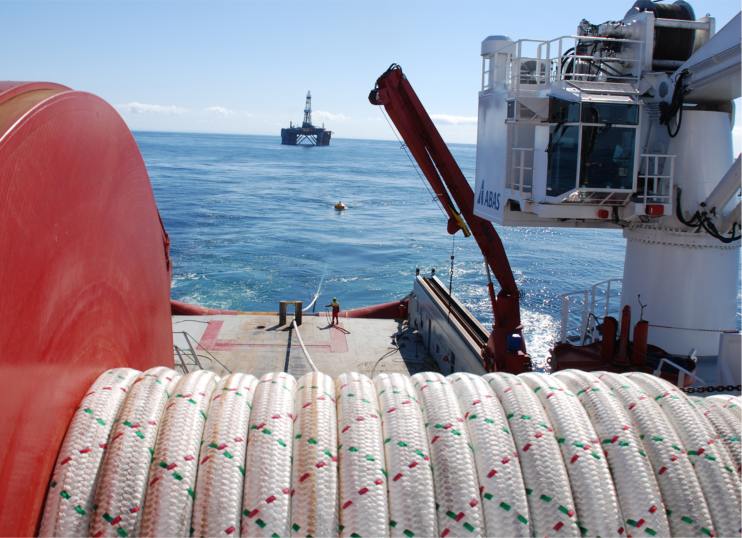 DEEP SEA MOORING BECOMES THE FIRST COMPANY WORLDWIDE TO GET DNV APPROVAL FOR RENEWAL SURVEY EXAMINATION OF OFFSHORE FIBRE ROPES INTENDED FOR MOORING OF MOBILE OFFSHORE UNITS, IN ACCORDANCE WITH CLASS PROGRAMME DNVGL-CP-0484.
The Approval of Service Supplier (AOSS) allows Deep Sea Mooring to perform Renewal Survey on fibre ropes without DNV being present during inspections. Deep Sea Mooring already has AOSS for Renewal Survey Examination of chain and other steel mooring components since 2015. The AOSS for fibre ropes comes as a continuation of our capabilities within Renewal Survey Examination of mooring equipment.
An important requirement for achieving the approval is demonstration of competence with regard to fibre ropes in general, the handling of them, and understanding potential and actual damage. As part of the achievement process, Deep Sea Mooring developed an internal personnel training programme covering all technical aspects of fibre ropes, increasing the competence and understanding of the product portfolio.
DNV-certified offshore fibre ropes for mobile mooring need to undergo renewal survey every 5 years, and renewal of the certification requires demonstration of the full service history.

Deep Sea Mooring's Asset Management Director Åge Straume: "This recognition from DNV demonstrates that we are in the front row with regards to competence on our offered products. It also shows Deep Sea Mooring's long-term dedication of developing our organisation and systems to be able to deliver the quality we aim for. The integrity of Deep Sea Mooring's asset management is represented through the quality of our processes, procedures and resources as well as our competent and trained personnel and continuous improvement through the lifecycle of our assets. We implement stringent maintenance requirements for our assets and fulfil a stricter inspection regime than required by our regulatory placeholders. We recognize the risks related to mooring operations and invest to reduce the risk for failure, by monitoring the condition and performance of our assets."