STEVSHARK REX: EXCEEDS EXPECTATIONS IN EDVARD GRIEG FIELD
25 February 2019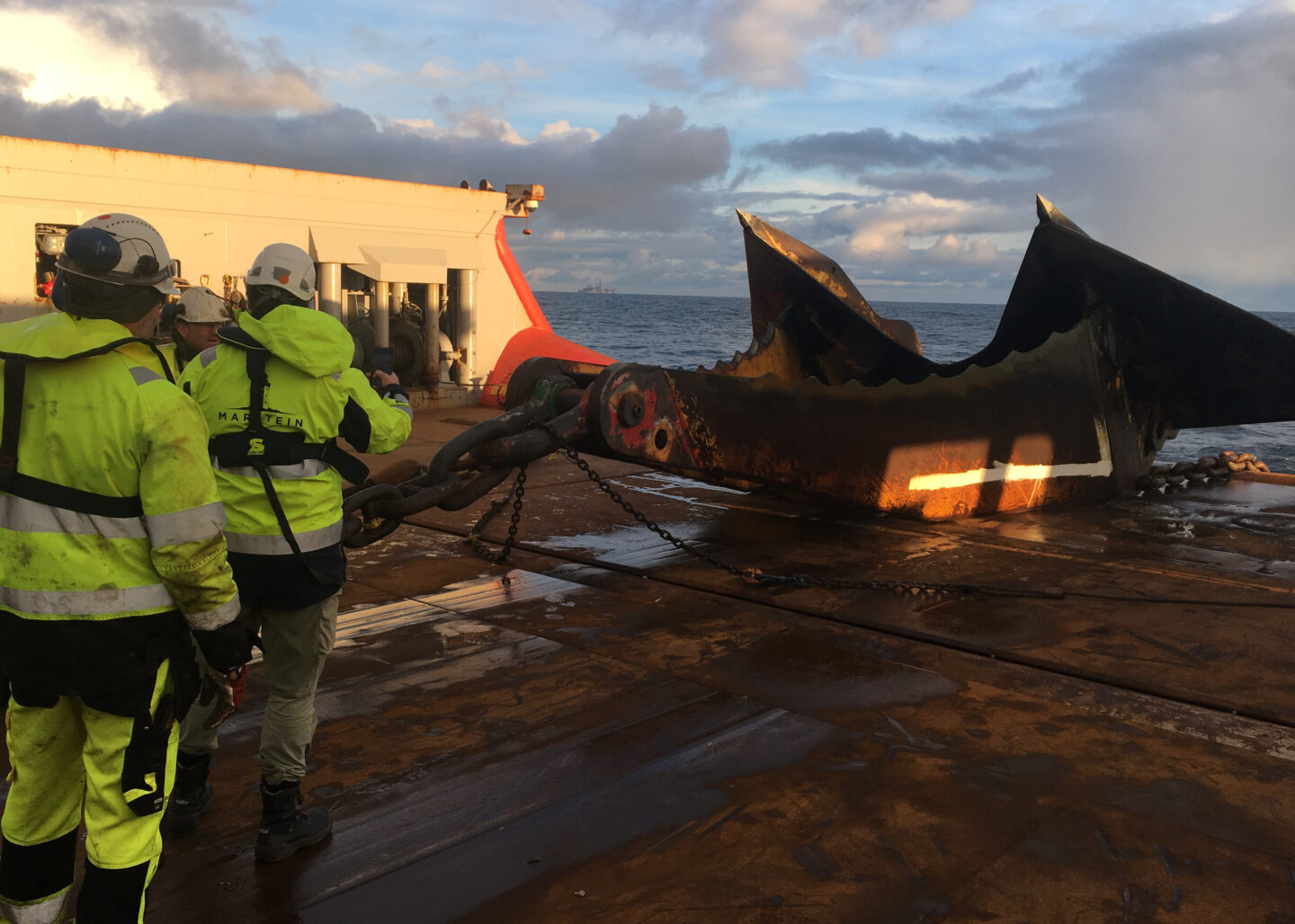 In early February 2019, expectations were quite high on board the KL Sandefjord, when the vessel set course to the Edvard Grieg field in the central North Sea, some 160 nautical miles from Mongstad, Norway. With a bollard pull of 390 tonnes, the KL Sandefjord is one of the most powerful AHTS vessels ever built, anywhere in the world. Commissioned by oil company Lundin Norway, the vessel was loaded with 8 x 18-tonne drag-embedment STEVSHARK®REX anchors.
The aim was to test this full set for the pre-lay supplied by Deep Sea Mooring to the Leiv Eiriksson semi-submersible drilling rig. The key question was whether the new STEVSHARK®REX anchor really is as revolutionary as its developer Vryhof Anchors claims. The results of the test exceeded all expectations. Following eight runs, the drag data revealed such convincing pre-lay results that this must undoubtedly be described as a new milestone in mooring history, that opens up new opportunities in areas with extremely hard soils.
Since the STEVSHARK®REX was developed to deliver high holding power even in hard soil conditions, Lundin Norway opted for the STEVSHARK®REX for this pre-lay campaign east of the Edvard Grieg field specifically because this location is renowned for its difficult mooring conditions. When anchors are installed in this area, resets are commonly needed, requiring what is known as the piggyback system. This situation poses both an expensive loss of operational time as well as additional fuel consumption and the need for expensive spare piggyback anchors and accessories.
The set of easy to handle STEVSHARK®REX anchors was mobilised at Deep Sea Mooring's yard in Mongstad. Normally speaking, Lundin Norway would have used Mk6 anchors for the challenging geotechnical conditions at this specific location in the Utsira High area. As a precaution, it was decided to include four Mk6 anchors in addition to the 8 STEVSHARK®REX anchors. After arrival at the planned mooring position, a 3-hour inspection of the nearby Statpipe was completed by an ROV, before the first STEVSHARK®REX was deployed for the attempt, with a 363-tonne bollard pull. The measured drag length was just 12 metres; an excellent starting reference.
Over a period of two days, all 8 STEVSHARK®REX anchors were correctly installed in the designated box defined by Lundin Norway, at a depth of around 110 metres. The results were very consistent with a 382-tonne bollard pull resulting in an average drag of just 10 metres. Every single time, the STEVSHARK®REX became embedded without any hesitation, and with no detectable skidding whatsoever. The perfect streak was not ended until run 7, when the anchor broke out. Subsequent inspection revealed that the anchor had passed through a patch or layer of soft clay, which accelerated the movement and caused the start of the break out. On the second attempt, the anchor once again passed the test with outstanding results.